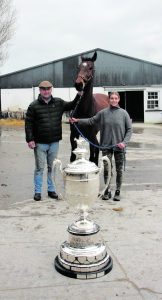 1991 was a year to remember for the O'Sullivan family from Lombardstown near Mallow in Co Cork. Their horse 'Lovely Citizen' was first past the post in the prestigious Foxhunter Chase in Cheltenham that year. Twenty-nine years on they are celebrating winning the race for the second time after 'It Came To Pass's' brilliant victory last Friday.
Eugene O'Sullivan, trainer of 'It Came to Pass', who was also trainer of 'Lovely Citizen', compares the two valuable wins. "In 1991 we went there for the fun of it but this time I felt that this horse was good enough to win it." "At the time (1991) the emotion went over my head, but I am older this time and I was able to relax and take it in."
Eugene's brother William steered 'Lovely Citizen' to victory twenty-nine years ago, and this time around it was Eugene's daughter Maxine on the back of 'It Came To Pass'.
In the early stages Maxine O'Sullivan settled the ten year old bay gelding in mid division before making gallant strides four fences from the finish. Approaching the second last 'It Came To Pass' found himself in front, he was then ridden clear before the last and stayed on comfortably up the hill to beat the 11/4 favourite 'Billaway' by ten lengths in what was a brilliant ride by Maxine. Asked how he felt after the race, Eugene recalled, "I felt highly pleased and relieved, it was a fantastic feeling with Maxine riding, I knew how much it meant to her and to have her do it meant an awful lot to me." The O' Sullivans had high expectations for 'It Came To Pass' before the race "We expected him to win but expecting and doing are two different things!" says Eugene. "You're always waiting for something to go wrong, but we knew if he handled the track he would run well."
Eugene first acquired the horse after Jim Culloty retired, and there were a few horses left over. "I knew a man working over there and I asked him were the two horses for sale and he said yes, so we bought them," he recalls. At the present time there are fifty horses both young and in training in the O'Sullivan yard, but it was only after 'Lovely Citizen's win that numbers escalated. "After 'Lovely Citizen's win the number of friends asking us to buy them horses escalated and it went from one or two to sixty at one stage." Looking to the future Eugene hopes his star horse will go to Aintree for the Foxhunters race and to Punchestown for their equivalent at the end of April, at ten years old there is another year or two left in the 'Brian Boru/Satellite Dancer' gelding. The Foxhunter Chase at Cheltenham is known as the Amateurs Gold Cup and it gives an opportunity for family trained horses and the people who keep point to point racing alive to write their names in Cheltenham history, and it gives these hard working people the publicity they need. The race also shows that these people have what it takes to beat some of horse racings elite which was evident last Friday when the might of Willie Mullins was left behind by a gallant run from the O'Sullivan's stable star. Eugene sums up what this race means to people like him. "It's great, the race is so important to the hunting people and point to point people in Ireland." All in all, it was a brilliant win to end a brilliant Cheltenham festival and here is hoping that wins like these will come more often for deserving people like Eugene and the O'Sullivan family.