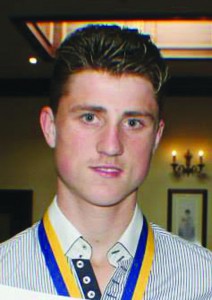 This is an historic week for Rathkeale Boxing Club and for Jason Harty who has become the first ever Limerick boxer to win a European gold medal.
Jason was crowned European junior champion in the light welterweight division after a unanimous decision win over Poland's Eryk Apresyan in Lviv in the Ukraine.
It is just another stage in the progress of one of Lime-rick's finest young sports-people as he can already count five county titles, five Munster titles, six All-Ireland titles and a European silver medal in 2013 in his honours list.
Still only 16, Jason has a grueling training schedule to reach the top in his chosen sport and ensure that his body is in prime condition at all times, and to do that he trains twice a day six days a week.
The young Askeaton fighter is not finished yet; he is now planning a two week break before returning to training for a shot at the world championships to be held in Russia in September, the qualifiers for which will be held in July.
Jason returned to a hero's welcome in Rathkeale at the weekend.