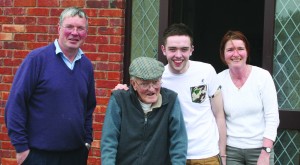 The Voice of Ireland sensation, Keith Hanley, completed the most dramatic two weeks of his young life when he returned to his mother's ancestral home last Monday afternoon.
The young man who captured the hearts of the nation was accorded a hero's welcome by a huge crowd in Ballylanders on his first visit to the village since his stunning success at the Helix last Sunday week.
A fortnight that started with a visit to Charleville by the young performer's mentor on the show, international singing star Jamelia, who directed him to success was finally ending back among his ancestral roots, his mother Alice's homeland in what is commonly termed the Galtees. The fortnight also included a huge welcome home on the Tuesday after his win when in excess of 3,000 crowded into Charleville's Main St., for his home coming and also took in an appearance of the Late Late Show on Friday evening.
The reception in Ballylanders in many ways mirrored that in Charleville six days earlier with the village packed as the crowd converged on the platform which was located straight across the road from the business premises of his late grandfather, the colourful Councillor John Gallahue. It was the former Cathaoirleach of Limerick County Council that first spotted his young grandson's talent and potential to be an entertainer and actively encouraged him to seek out a career in the entertainment industry.
For almost two hours before the young singer arrived, the R513 which links Limerick and Cork through Mitchelstown was closed and diversions were in place as crowds descended from all over the Galtees area. On arrival, Keith was transported in his uncle Dan Gallahue's restored Model T behind the marching Liam Lynch Band, Anglesboro. It was fitting that the long time band should serenade the Voice of Ireland star as for many years, the late John Gallahue was one of its pipers and most prominent members.
The sun shone brilliantly capturing the mood of celebration on the ground while the Galtee Mountains provided a resplendent backdrop in the early May sunshine as the young performer arrived at the platform. Keith thanked the assembled gathering for their unstinting support during the weeks of the contest before giving a rendition of his recently released single 'Beggin' which is currently in the Top 20 and climbing.
An almost hour long performance ended poignantly when Keith Hanley burst into 'The Galtee Mountain Boy', a song made popular by and for ever associated with his grandfather John Gallahue, who no doubt was looking down approvingly from on high.