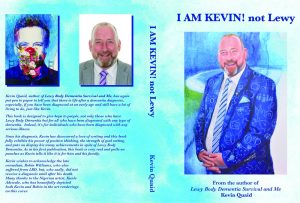 One of our regular contributors, Kevin Quaid is about to launch his second book, "I AM KEVIN! not Lewy". This is a remarkable achievement, not just because writing any book is no mean feat but finding the time and energy to write while living with a severe illness has to be the most rewarding of all.
Limerick native Kevin was diagnosed with Lewy Body Dementia in 2017 aged 53, after being diagnosed firstly with Parkinson's Disease initially. He is a member of the Irish Dementia Working Group. After his diagnosis Kevin realised there was very little information about his particular form of dementia and addressed the issue head-on by writing his first book called "Lewy Body Dementia, Survival and Me". He was one of the first patients in the world to write a book about Lewy Body Dementia from the patient's point of view. The book was very well received in medical circles as well as literary circles. He's a born wordsmith, honest in his writing, but witty too. He is now an active advocate and through his work with the Irish Dementia Working Group supported by The Alzheimer Society of Ireland raises awareness about the condition. In Oct 2018 Kevin spoke at the annual AlzTalks event organised by The Alzheimer Society. He spoke about the difference between Lewy body dementia and other forms of the disease. In 2019 he spoke at the Alzheimer Europe Conference in The Hague and impressed on an international audience the importance of hearing the voice of people living with dementia. He represents Ireland in Europe as the vice chair of the European Working Group of people with dementia. He is going to be the opening speaker in the upcoming Alzheimer Conference in the Hague in November. Kevin is a wonderful ambassador, and has had numerous media appearances, as well as speaking engagements worldwide. He is a contributor to 'Hear Our Voice!', a policy paper developed by the Centre for Economic and Social Research on Dementia, The Irish Dementia Working Group and The Alzheimer Society of Ireland. During the pandemic, he continued to be an advocate, using Zoom to connect with policy makers and other people living with dementia. But he also found time to finish his latest book. The book has been eagerly anticipated by the general public, medics, as well as patients of the disease.
Brian Lawlor, Professor of old age psychiatry at Trinity College Dublin, and deputy executive director of the Global Brain Health Institute, articulately sums up the latest book when he said.
"This is a story about hope; how agency, goals and actions provide a pathway to live well with a diagnosis of Lewy Body Dementia." Many other imminent professionals have expressed their opinion on Kevin's newest book and here are just a sample of them.
"In this follow up to his first book "Lewy Body Dementia Survival and Me," Kevin Quaid writes from the heart about his experiences of living with LBD. Honest, moving and easy to read, his intention is to provide hope and encouragement to others on a similar journey". Ian McKeith, Professor of Old Age Psychiatry at Newcastle University and first President of the Lewy Body Society UK
'To really understand the disease, you have to understand the lived experience.  Kevin gives a wonderfully written and accessible guide to Lewy Body Dementia and how to achieve in adversity. He explains how you can live life to the full whilst facing an undefeatable foe. This is a must-read for anyone facing the battle of their life, for their life" . Andrew Wormald, PhD Research Fellow, Lecturer, University of Limerick
'A powerful must-read for everyone whose life is affected by LBD. ' Jacqui Cannon, Chief Executive, The Lewy Body Society UK
'Kevin Quaid's authenticity brings much needed awareness, guidance, and hope to the forefront as he advocates for all people living with dementia and their caregivers.' Norma Loeb, Executive Director, Lewy Body Dementia Resource Centre of New York.
'Kevin provides a powerful account of how it feels to be the person behind the symptoms. His book is as essential to healthcare professionals as any research paper or textbook.' Dr Joseph Kane, Academic Clinical Lecturer, Queen's University, Belfast, Ireland.
'Coursing through every page of this beautiful book is hope, love, and generosity. Kevin and his wife Helena give readers the gift of their honest experience of living with Lewy Body Dementia. In doing so, they undo the stigma of dementia and help to improve the lives of families dealing with this diagnosis.'
Cindy Weinstein, PhD, Vice Provost, California Institute of Technology, Author, 'Finding the Right Words – A Story of Literature, Grief and the Brain'
But perhaps the most powerful thought of all is "'In saying 'it's not the destination, it's finding the joys on the journey,' has made my future look happier. "Naomi Gleeson, recently diagnosed with Lewy Body Dementia.
On the cover of Kevin's book there are beautiful depictions of Kevin and the late Robin Williams, who also suffered from Lewy Body Dementia, the work of an amazing Nigerian artist, Kunle Adewale. Sadly, Robin Williams' diagnosis came after his death. Kevin has always felt a great affiliation to the actor and has been in regular contact with his wife in the US. As a lasting memorial to Robin, Kevin's poem is included in the book.
Kevin, Lewy, and Robin.
Kevin knew Robin,
Robin didn't know Kevin.
Kevin made 100s laugh,
Robin made millions laugh.
Laughter and good humour hid the pain,
That Lewy was causing again and again,
Robin was in pain but didn't know why,
Kevin's pain was relentless, to the point that he would cry.
Robin searched for answers,
But couldn't find them.
Kevin's search brought Lewy,
But he didn't let it define him.
Lewy was the cause of the pain,
Lewy was the cause of the fear,
While draining us of our good cheer.
Lewy was the reason, Kevin and Robin hated the night Lewy was the reason Kevin and Robin were consumed with fright Lewy will make you think you are going mad and
makes you forget the good times that you had
Lewy will hide and drive you insane
Lewy can cause you the world of pain.
Lewy is sneaky, menacing and unfair
Lewy body dementia just doesn't care.
Lewy took Robin without Robin knowing
Lewy tries to take Kevin, but Kevin is not for going,
Many a battle is had with Lewy
Some are won some are lost
The end result is that it will cost,
Your body, your mind, and even your life
Unless you fight with all your might
Lewy body Dementia is a horrible disease
It must be stopped and brought to its knees,
So, join me in the fight, bring it out to the light,
Get rid of the stigma, and let's fight in plain sight.
Kevin's book launches will begin in the near future, and we will publish dates and times. We are immensely proud of him and wish him every success with his newest book. If anyone would like a copy, Kevin can be contacted at kevinquaid9@gmail.com.