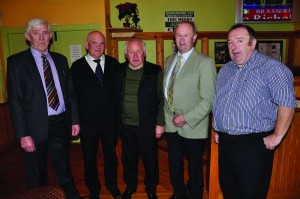 UNDER 16 FOOTBALL   MEDALS 50 YEARS LATER
Knockaderry GAA held a function in the Halla Beag on Saturday 21st January. They were there from far and near to honour the 1961 juvenile team who won the West and County Under 16 hurling and the West Under 16 football.
Fifty years later they looked fine and fresh and they have aged well. Four of the team have gone to their eternal reward, namely Jim and Ger Hennessy, Tom Frawley and Willie Quaid.
Tom Sheehy, chairman, welcomed everybody and then handed over to Seán Liston who held a slide show of the 1960s era for half an hour, which was greatly appreciated by a large audience. John Walsh of the West Bord was guest of honour and presented the following with a framed photo of the team and a small programme detailing an account of the game: Paddy Corkery, James Meehan, Jack and Paddy Hennessy, Con Danagher, John McKessy, Paudie Dowling, Seán Walsh, Gerry Butler, John Collum, Moss Meehan and John Hennessy. But the highlight for the ex-players was when they were presented with their West Under 16 football medals after 50 years.