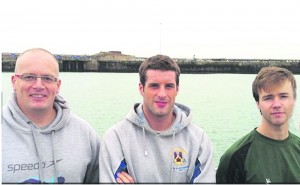 On Monday last Liam Kelleher from Spa Glen, Mallow, was part of a three man relay team that successfully completed the challenge of swimming the English Channel. The swim from Shakey Beach near Dover to Le Gris Nez, south west of Calais took 18.5 hours. The swim began at 9.45am at low tide and one swimmer made it ashore on the French coast at 2.15 am on Tuesday morning. The swimmers followed an S-shaped loop on their swim, to follow the tidal flows in the channel. Liam was joined on the swim by Diarmuid Dennehy from Kildorrery and Stuart Bowman from London. All three are members of the Serpentine Swimming Club in London. Months of training helped prepare the swimmers for the journey, but enduring the sea swells from passing traffic and the retreating tide on the French coast was difficult.
Weather conditions were good with water temper-atures of 16–17 degrees Celsius. Their pilot boat the 'Optimist' shadowed the swimmers at close quarters and each man spent about two hours in the water at a time.
Stuart Bowman was the lucky one to land on the French side, following his battle with the tide. The pilot boat made the return straight-line journey of 21 miles back to Dover in just two hours and some badly needed sleep was had by all three. The Cork lads are dedicating their efforts to Pieta House and donations can be made to that worthy cause at http://www.idonate.ie/164_pieta-house.html (click on Shur Tis' Only A Bit Of Craic – English Channel Relay Swim – Diarmuid Dennehy.