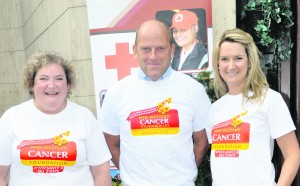 The 2013 Charity Ride and Drive, which will take place on Saturday August 31st, was launched recently at the Radisson Blu Hotel and Spa. On the day, a convoy of horses, ponies and their riders, led by a horse drawn carriage, will travel along two different routes from Ennis Show-grounds to Limerick and from Clonshire Equestrian Centre, Adare to Limerick. Both routes will converge at the Greyhound Stadium in Limerick. Each parti-cipant, wearing a specially commissioned souvenir T-shirt, can do as much or as little of the route as they wish. Comedian and singer Brendan Grace is suppor-ting the Mid-Western Can-cer Foundation and will join in the Charity Ride and Drive. There will be designated stops on both routes where participants can join in or change mounts. The proprietors at each stop have all very generously sponsored the provision of refreshments for all riders, drivers, pon-ies and horses. Limerick Greyhound Stadium invites all participants, collectors and supporters back later at 8pm for an evening's entertainment, during which a raffle will be held and six winners picked to lead out the greyhounds running in the 8.30pm Mid-Western Cancer Foundation Charity Race.
The idea for the Charity Ride and Drive came from a group of people, who have been touched by can-cer, and thought it would be great to do something for the Mid West Region which would involve both adults and children. Travel-ling through the different villages on both routes, will hopefully increase awareness of the Mid-Western Cancer Founda-tion, and raise as much money as possible so that it can continue to provide essential services to people with cancer in the Mid West. To participate in the Charity Ride and Drive, contact the Facebook page: 'Limerick Cancer Centre Charity Drive and Ride' or call Edel on 087 248 7173.
Route One leaves Ennis Showgrounds at 10am, travelling on the outskirts of Ennis via the Quin Road, and is expected to arrive at the Abbey Tavern in Quin at 11.30am. From there we will leave at 12 noon, arriving at the Old House pub in Sixmile-bridge at 1.30pm. At 2pm we will continue on to the Radisson Blu Hotel and Spa, our last stop, from where we will depart at 4pm meeting the Adare convoy at 5.30pm outside the Greyhound Stadium in Limerick.
Route Two will leave from Clonshire Equestrian Centre, just outside Adare
at 2pm. It will pass through Adare, and arrive at the Cú Chulainn bar in Patricks-well at 3.30pm. We will depart from there at 4pm, travelling through Clarina and Mungret and finishing up at 5.30pm at the Limerick Greyhound Stadium.
All proceeds from the Charity Ride and Drive, raised by sponsorship cards and bucket collections on the day, will all go to the Mid-Western Cancer Foundation in order to enhance the Centre's facilities and to make sure that the best treatment, services and cutting edge technology is available to people with cancer in the midwest area. Established in 2007, it is located on the grounds of the Mid-Western Regional Hospital. Its aim is to provide hol-istic care for people with cancer through a range of services. The Foundation also supports research being carried out by the Stokes Institute, which is based at the University of Limerick.
Speaking at the launch, Professor Gupta said, "These services are all critical to the people of the Mid West and need to be updated to allow us to maintain and improve the journey that patients with cancer have to endure." "We rely on donations and charitable fundraising events like the Charity Ride and Drive. We appre-ciate that these are difficult times and therefore, we are extremely grateful for the generosity shown by those participating as well as those donating. We would also like to thank the Irish Red Cross; both Paraic MacNamara and Louis Hassett for donating their veterinary services on the day; An Garda Siochana; Clare and Limerick County Councils; Ennis Show-grounds; Clonshire Eques-trian Centre; 'I Do Station-ery'; and 'Munster images' for the photography; without whom none of this would be possible. If you can take part in the Ride and Drive – great and if not, join us at the Greyhound Stadium for a fun night out."
For further information, please contact:
Susan Rice – PRO
Limerick Cancer Centre Charity Ride and Drive
Email: susanrice18@gmail.com
Tel: +353 (0)86 832 3833