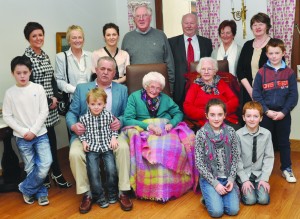 Family and friends gathered at the week-end to help Abbeyfeale woman Mary 'Maisie 'Lyons celebrate her 104th birth-day. Now one of the oldest people in Ireland, Maisie, a resident at Beechwood Nursing Home, Newcastle West, attributes her longevity to plain food and no drinking or smoking.
Mary 'Maisie' Crowley was born on 10th February 1909, the eldest of the seven children of Denis and Mary Crowley, Dromtrasna Collins, Abbeyfeale. There were four boys and three girls in the family; now just two survive, Maisie and her sister Bridget Collins, Croagh.
Maisie Crowley met her future husband Mick Lyons from Duagh at Moloney's Hall in Templeglantine and at that time she, like her friends, walked to the dance, a distance of a couple of miles. Maisie and Mick were married in 1937 and set up home at Dromtrasna North and had four children, two of whom are now deceased, Maurice, a Munster minor football medallist with Limerick in 1956 and Margaret who lived in Clontarf in Dublin. Her son Denis at present lives in Dromtrasna while Patrick resides in Abbeyfeale.
A woman of great faith and belief in God, Maisie has been to Lourdes three times, the last time in 1974. A very keen Gaelic football fan, Maisie names Kerry's Mick O'Connell as her favourite player.
Maisie is enjoying her days and likes nothing better than chatting about old times and receiving visits from her sons, her sister, 20 grandchildren, many great grandchildren and their families and old neighbours and friends.