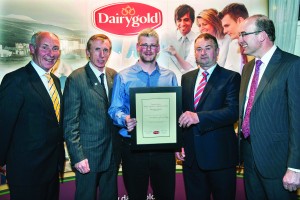 Dairygold milk supplier, James Daly Callaghan of Kilabraher, Dromina in Charleville, Co. Cork was declared regional winner of the 2012 Dairygold Milk Quality Awards. The award presentation took place at the Springfort Hall Hotel in Mallow on Thursday night where James was awarded for consistently supplying the best quality milk from the Mallow region to Dairygold throughout 2012.
The Awards were based on 2012 milk quality data for all 3,000 Dairygold milk suppliers, taking account of milk solids, farm facilities and animal husbandry. A shortlist of three suppliers was drawn up from each of the six Dairygold regions. Those farmers underwent adjudication by two independent judges, Prof. Charlie Daly, former professor of food micro at University College Cork (UCC) and Mr. Matt Ryan, former Teagasc dairy specialist. The judges visited the farms of all eighteen shortlisted contestants to review their farm enterprises first hand and choose six regional winners and the overall winner.
James's farm was described by the judges as an excellent example of what good management and high standards of production can achieve.
Speaking at the awards Dairygold Chief Executive Jim Woulfe said, "As a business that supplies the food industry we must ensure that our products meet customers' high standards. Demonstrating the integrity of our products requires us to be able to trace the quality right back to the first point of production – the milk that leaves the farm gate. James can be justifiably proud that of nearly 4,000 milk suppliers across our catchment area his milk was of the highest quality.
Dairygold's Balanced Scorecard method for assessing milk quality and paying bonuses which was introduced in 2008 is showing quality improvements across our supplier base. The average points achieved in 2012 show an improvement over 2008 of some 15%. That meant an extra payout for milk quality to Dairygold milk suppliers of €3 million for 2012".