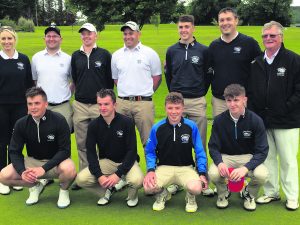 Mallow Golf Club are through to the last four of the Irish AIG Senior Cup following the qualifying rounds.
Mallow was one of four clubs hosting qualifying rounds last weekend, and the home representatives, after beating Fota Island and Lee Valley on Saturday, were pitted against Kinsale on Sunday morning.
The hosts overcame the east Cork club with James Sugrue, Conor Dowling and Brian Attridge winning their matches in a 3-2 win.
It set up a meeting with one of the big guns, Cork Golf Club, and it all came down to the last hole. Brian Attridge was the Mallow hero. He was one down after 15 in his match but after winning the 16th and 17th, to set up a nail-biting 18th, where he held his nerve for a 3-2 triumph for Mallow. Attridge, James Sugrue and Paul McCarthy were the winners against Cork Golf Club.