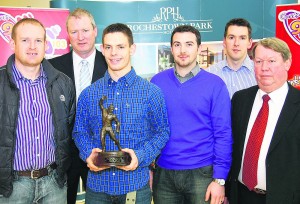 A GOOD START FOR CORK IN MUNSTER JUVENILE CHAMPIONSHIP
Our juvenile handballers have a busy schedule of games in the Munster Championships and Cumann na mBunscol in the coming weeks. The Munster Championships got under way last weekend when Cork were drawn against Waterford and these games were played in Dungarvan. Mallow represented Cork in U12 and U13 doubles and certainly got Cork off to a great start with a win in both codes.
U12 Doubles
Michael O'Malley and Cian O'Driscoll were in flying form against Seán Kent and Ben Flynn. Waterford are always pretty strong in the younger age groups and are never easily beaten on home territory. However, on this occasion they were outclassed by the Mallow boys who played outstanding handball in both games and never gave the opposition a sniff of the ball through-out the match. Michael and Cian are a very good combination and we look forward to their progress in the coming rounds. If they can continue the form shown in the 1st round where they won comfortably in two straight games 15-3, 15-3, they will be no pushover whatever the opposition throws up.
U13 Doubles
Cork were represented by the Mallow pair David Walsh and Tadhg O'Neill against two lively Waterford boys Tom Hooley and Michael Lenihan. David and Tadhg got into their stride early on and never allowed the Waterford boys take a hold on the game at any stage. It was evident early on that David and Tadhg have formed an excellent partnership over the early years of their handball careers and the understanding and know-how is showing very much in their game at the moment, and they won't be easily beaten at any stage of the championships. Continuing to play a very clever game, both Cork boys were well on top and won out rather easily in two straight games 15-6, 15-3.
Sports Star Award for Killian Carroll
Congratulations to Killian Carroll who was awarded the 96 FM C103 Sports Star for the month of January which was held at the Rochestown Park Hotel on Friday. This is a well deserved and prestigious award for Killian who has been outstanding on the handball scene in recent times and he is looking forward to the rest of the season with confidence.