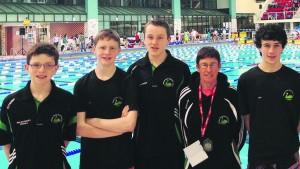 The National Irish Age Groups Championships and Summer Open took place last weekend at the National Aquatic Centre, Dublin. It was the biggest event Swim Ireland has run to date with over 96 clubs and 800 athletes competing against visiting teams from South Africa, Cayman Islands, Singapore, Oman, Dubai, England and Scotland. So to say the competition was high is putting it mildly. Mallow Swans, with only a small squad of 7 swimmers, made a big impact on the results over the four-day event. Mark Walsh had an outstanding gala, the intense training with his club and the Cork development squad paying off greatly. He was on a roll from day one, taking on the competitive 200 metre freestyle, making it to the final and finishing 10th overall in the 15 year category. The next final for Walsh had everyone on the edge of their seats, swimming alongside the South African Jordan Le Clos, brother of the famous Chad Le Clos, the 200 metre butterfly Olympic gold medallist from London 2012, but this didn't faze Mark and he took silver in this demanding event. It was a continuous success after day one, qualifying for the 100 metre freestyle and 400 metre I.M. finals and taking bronze in both races. Coming away from this event with 1 silver and 2 bronze medals and making 6 finals is an exceptional achievement for Mark, his club and for Munster. He is a consistent athlete and a pleasure to watch his technique and fitness.
Sarah Crowley has always given a 100% to competitive swimming, even from a very young age. Having to travel a distance each day to train, she has always been focused and determined to reach the top level of achievement and she did at this national event, swimming her way into four finals in the very completive 15 age group. Sarah, quietly confident, attained incredible PBs in every race she swam. On the final day, just as we thought she had no more to give, Sarah swam an astonishing 200 individual medley and took bronze and triumphed with a PB of 3.53 seconds in this event. Sarah made a big impression on the NAC, and her Cork and Mallow coaches.
13 year old Cadan McCarthy also made himself known at this long-course 50 metre event, improving on his existing times dramatically and showing that diligent training with his club and county does pay off. Swimming over four days with draining temperatures did not daunt Cadan from making it into five finals; most notable was the 200 metre butterfly where Cadan was very unlucky to miss out on the medals and placed 4th in the final, knocking a staggering 10.65 seconds off his existing time. Swimming 1500 metres is not for the faint-hearted and being placed 5th in the final and taking 55.20seconds off his time on day four is a sign of an exceptional swimmer.
Tarik Yilmaz always makes it look so easy, a technique that is the envy of every swimmer, in all strokes, his very polished style helped him achieve some very notable PBs. Yilmaz drew the attention of Cork county coaches who are now pleased to include this natural swimmer with the squad which is being groomed for selection for Rio 2016.
Rachel Murphy, Ella Fuohy and Jed Duane, who only recently qualified for this high level of swimming at UL, swam incredibly well, considering. Being tired from the recent hype of the division 2s did not deter these swimmers and they gave it their all. Coach Cormac Powell encouraged and motivated each of the seven swimmers every day over this long sweltering event and was always on hand to lend his own vast knowledge and experience from his days of this level of competitive swimming. The club are now on a well deserved break and will resume in September.