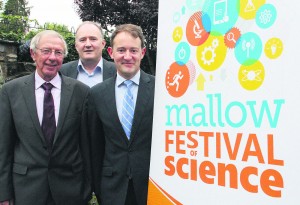 Leading professionals in sport, medicine and business are joining forces with the country's top education and research institutions to create Mallow's first Festival of Science to be held in the second week of October.
Mallow Festival of Science is aimed at broadening an understanding of the impact of STEM – Science Technology, Engineering and Mathematics – on everyday life. The Festival is part of the town's strategy to promote economic development through greater use of new technologies and innovation.
Talks, discussions and practical demonstrations will all form part of the Festival which starts on October 7th and culminates in the Mallow Maths and Science Family Fair on October 13th. There is a special emphasis on the involvement of parents as well as students in the week's activities. Talks on entrepreneurship run in parallel with advice on the use of innovation in business and careers in the new economy; strength and conditioning, nutrition and sports psychology form part of the sports module; and the health module involves free health testing and advice.
The Festival was launched on Monday by Mallow businessman, Jim Barry, managing director of wholesale, retail and logistics company, the Barry Group and by the Minister for Research and Innovation, Seán Sherlock T.D.
The Festival is organised by Mallow Development Partnership, the National Centre for Excellence in Mathematics and Science Teaching and Learning at University of Limerick (NCE-MSTL), Mallow Primary Health Care Centre, Mallow Systems Innovation Centre and Mallow Chamber. The Festival is part of the broader Mallow Development Partnership mission to promote the town as a technology-aware and facilitating location.
Mallow already has a ground breaking Maths and Science project in place with NCE-MSTL at University of Limerick, involving twenty one schools and over 4,000 students. The Festival will further enhance the project and extend the concept to the wider community, according to John McDonnell, chair of Mallow Development Partnership. "Our aim is to increase community wide proficiency in Maths and Science which will help to position Mallow and North Cork for new vistas in education and future employment opportunities."
Full programme details are available on www.Mallow.ie