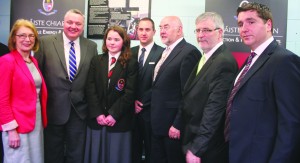 The Minister for Education and Skills, Ruairí Quinn, TD, made an official visit to Coláiste Chiaráin, Croom, last Friday to officially launch the school's fifteen new Short Courses for Junior Cycle and to acknowledge Coláiste Chiaráin's ground-breaking work in being the first school in the country to introduce the new Junior Cycle programme last September.
Coláiste Chiaráin became the first school in Ireland to implement the new three-year Junior Cycle programme, under National Council for Curriculum and Assessment guidelines. First years have begun a new Junior Cycle, which includes, as well as conventional subjects, an array of innovative new areas of study, ranging from Television and Radio Broadcasting, to Experimental Science Investigations, to Innovation and Creative Entrepreneurship. These Super Options, as they have been dubbed, are delivered in conjunction with a variety of third level education and business partnerships, such as RTÉ and the University of Limerick, and are designed to help students develop their own creativity, confidence and decision-making skills, as well as introducing them at an early stage to exciting career options.
Minister Quinn said: "I'm delighted to be here today to learn about the fantastic work Coláiste Chiaráin is doing on the new Junior Cycle. The school is very much leading the way in reforming the syllabus for the benefit of students and was enthusiastic from the very start".
Working with the National Council for Curriculum and Assessment (NCCA), the school has developed 12 short courses, with three new courses being introduced this September: Chinese Language and Culture, European and World Studies, and Digital and Print Journalism."
The minister went on to thank the staff for their dedication and hard work, a sentiment echoed by Coláiste Chiaráin Principal, Noel Malone, who said: "It is a tribute to our wonderful teachers that they embraced the new framework in such a positive manner and hopefully they will provide an inspiration for other colleagues in other post primary schools, across the country."
Mr. Malone went on to say: "Such has been the success of our first year junior cycle programme, I am delighted to announce that we are introducing some of these courses at Senior Level. Our new Transition Years will choose one of the following: Digital and Print Journalism, Innovation Creativity and Entrepreneurship, Television and Radio Broadcasting, Sports Science and Software Engineering for Games and Applications. We pledge to work closely with the NCCA in supporting other schools who wish to embrace this wonderful opportunity."
Minister Quinn was flanked by a guard of honour of students as he approached the school building, and met with several representatives from first year who demonstrated the various new Junior Cycle courses.
While the purpose of the ministerial visit was to officially launch Coláiste Chiaráin's 15 new short courses for Junior Cycle – the school's response to the Framework for Junior Cycle document, the minister also viewed the architectural plans of Coláiste Chiaráin's new school campus, he raised the school's new Green Flag, and he officially launched the Yearbook for 2012/2013.
In attendance at the event were the Minister for State for Housing, Jan O'Sullivan TD, the Cathaoirleach of County Limerick VEC, Cllr Mary Jackman, and CEO Mr. Sean Burke, as well as representatives of Coláiste Chiaráin's education partners in the new Junior Cycle Programme, including UL, LIT, UCC, and many industry representatives.