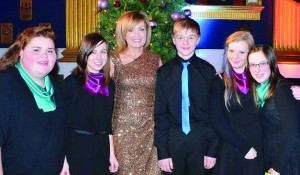 Choir members at Nagle Rice Secondary School Doneraile are used to performing in sell-out "Teen SpiriT" concerts in fantastic venues like the INEC Killarney, Cork Opera House and the Olympia Theatre, but Saturday 8th December was a dream experience for the 16 members of the "Teen SpiriT Doneraile" contingent who travelled to Dublin Castle to record in RTÉ's renowned Christmas Concert "Carols from the Castle". The members of the Doneraile Youth Choir were thrilled to join again with friends with Killarney, Dublin and Wicklow in the eighty-strong Teen SpiriT choir who were asked to perform in the prestigious concert by the Head of Religious Programming at RTÉ, Roger Childs, following their performance in the Olympia Theatre last April.
It was a huge honour for Teen SpiriT to be asked to take part in this major Christmas event, alongside stars such as Danny O'Reilly (The Coronas), Sinéad O'Connor, Andrea Corr, Pat Byrne and Frankie Gavin & friends. The Doneraile teens were privileged to sing with the RTÉ Symphony Orchestra and also to meet host Mary Kennedy. An early start of 6.15am and a long day of recording did nothing to dampen the spirits of the teens who were highly commended by Conductor David Brophy and the staff and production crew of the show for their talented performance, impeccable behaviour and fantastic attitude throughout the whole day.
It was intriguing for the Teen SpiriT choirs and team to experience a behind-the-scenes look at an RTÉ production like this, to perform three carols ("Mary's Boy Child", "Silent Night" and "God rest ye merry Gentlemen") and to enjoy being audience members and watch the other stars at work. Tune into "Carols from the Castle" on Christmas Eve, RTÉ1 @ 6.15pm to watch the local teens.