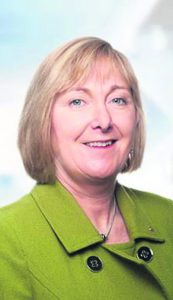 One of the most recognisable names in horse racing in the region, Mary Kelly of Cork Racecourse Mallow, has won a prestigious award from the Association of Irish Racehorse Owners (AIRO). The awards are designed to recognise the unsung heroes of the industry who work tirelessly behind the scenes. Mary acts as liaison between racehorse owners in the lead-up to and during their time at Cork Racecourse Mallow, and was nominated for the award in recognition of her services to the horse racing industry.
"The fact that the nomination came directly from racehorse owners who interact with me in relation to their time in Cork means so much," said Mary this week. "I relish the aspect of my job that involves interacting directly with the wider horse racing community and am so proud to have been nominated for and presented with this award in a personal capacity, but also on behalf of Cork Racecourse Mallow."
The nomination comes as Mary looks ahead to a very busy time at the racecourse, with the Paddy Power Cork National this Sunday, November 6th, the Kerry Group Raceday on December 11th as well as the Christmas Party season looming. "Businesses in Cork and elsewhere are always looking for something a little different at Christmas and with the fun and atmosphere of a buzzing race meeting boosted by a 4 course festive meal, mulled wine, tableside betting and the chance to get glamourous and suited and booted, it's become a very popular choice," said Mary.
Last year's AIRO Awards were presented to racecourse/office reception administrators, entrance administrators, photographers etc at a gala ceremony in the Killashee Hotel, Naas, Co. Kildare last Saturday.