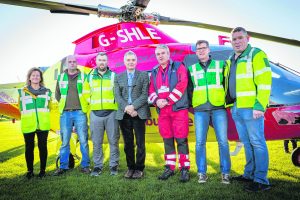 The new Irish Community Air Ambulance Service, which last week visited Charleville as part of a fundraising and information tour, will this month commence operations from a base at Rathcoole Airport in North Cork.
The air ambulance landed at Charleville GAA field on Saturday morning last to be greeted by local GP, Dr Tom Molloy, a number of first responder personnel and other interested locals.
Founder of Irish Community and Rapid Response, volunteer CEO, John Kearney, said the group had signed a five-year contract with Sloane Helicopters for the provision of an AW-109 aircraft, pilot and maintenance crew.
Irish Community Rapid Response – By Land and Air (ICRR) is a charity dedicated to saving lives in communities across the country.
National
emergency response
Having started in West Cork in 2008, the voluntary group has gone on to create a network of 250 volunteer doctors, 10 rapid response vehicles and now the provision of Ireland's first charity air ambulance this autumn.
When the ICRR Community Air Ambulance goes live, it will be based in Rathcoole Airport, with the service available nationwide.
It will be fully incorporated into the national emergency response, and tasked to appropriate 999/112 calls.
€2m a year to run
Wales, a country of similar size and population, has a well-established fleet of 4 air ambulances and they respond to approximately 2,000 incidents a year.
The first of its kind in Ireland, the air ambulance facility will be staffed by experienced members drawn from the National Ambulance Service and is expected to cost just under €2m a year to run.
This is the latest element of the ICRR's ambitious plan to provide emergency cover across Ireland, with the charity already running a GP's scheme in conjunction with UCD, as well as operating 14 rapid response cars manned by volunteer staff.
Short journey times
He said the helicopter will be able to reach Dingle within 24 minutes of lift off and Rosslare in 33 minutes. It will also be equipped with long-range fuel tanks which will allow it to travel up as far as Donegal if required to respond to an emergency. The CEO, John Kearney, said the ICRR had selected Rathcoole as its southern base to give us more land coverage. The weather also tends to be more favourable in North Cork as it is farther away from the sea.
"Rathcoole is the perfect location for a number of considerations and this will be a real asset for the north Cork region, "John Kearney said.
Voluntary funding
As a charity, the services, including the air ambulance, are totally funded by donations and grants. Prior to the Air Ambulance going live, the group are conducting a 'Fuel for Life' tour with the helicopter around the country, to raise the profile and inform people about the service.
As part of a fundraising drive, the air ambulance service will be touring the helicopter to venues around Munster over the coming weeks to raise awareness of the service, and help raise finance for its upkeep.
Coming to Hospital
Having taken in Charleville last weekend, the Air Ambulance will visit Hospital GAA pitch on Sunday, 14th October, from 9.30am to 10.30am for approximately 1 hour from landing to take off, involving a talk from an Air Ambulance pilot and a viewing of the aircraft itself. Irish Community Rapid Response have invited members of the community, local emergency services, volunteer groups and local school children to the event.