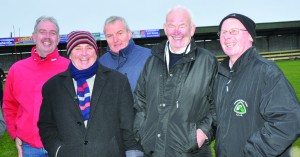 NEWCASTLE WEST……………………………………………………………..2-10
PATRICKSWELL……………………………………………………………..…1-9
Newcastle West were crowned Limerick Junior B Football champions for the first time after seeing off a stiff challenge from Patrickswell in the 2012 decider at Ballyagran on Sunday. The victory ensured that the representatives from the county capital completed a league and championship double in the grade in 2012.
Newcastle West came into the game as firm favourites and in the early exchanges lived up to the billing. However, Patrickswell quickly dispelled any notions that they were making up the numbers and when they fired over four unanswered points mid way through the opening half, it was obvious to the west Limerick men that they had a fight on their hands.
This game was not a classic but it was a hard, competitive and an entertaining contest, played before a decent crowd on a very firm pitch and in very pleasant prevailing November conditions. Even the most partisan will agree that Newcastle West were the better side and deserved to succeed, but the football and application of normally hurling specialists Patrickswell, won many admirers as they proved that they are no mean exponents of the big ball code.
Newcastle West possessed great power down the centre in Tony Kelly. Seán Barrett, John Lydon, Declan Brouder and Conor Fitzgerald who held up the ball, allowing those on the flanks run into space and hurt Patrickswell. Lydon's midfield partner, Cian Sheehan, a member of the Limerick under 17 team covered acres of ground and he was a constant thorn and threat to the Patrickswell defence. Kevin O'Shea came off the bench during the second half and his strong running added fresh energy to the attack and he had a hand in his side's first goal before clinically despatching the second.
Mark Griffin, Nigel Foley and Seán O'Brien worked tirelessly in the Patrickswell defence in a bid to stem the tide, Brian Byrnes worked hard at midfield while up front Barry Foley led the attack and tried to bring the lively Mark Carmody and Jack Kelleher into play at every opportunity.
Newcastle West raced into an a 0-3 to 0-0 lead inside the opening 12 minutes courtesy of points from Michael Martin, Keith Power and Declan Brouder. Patrickswell hit a purple match mid way through the first half and swung over four unanswered points from Jack Kelleher (2), Laurence Considine and Mark Carmody between the 14th and 19th minutes to nose in front 0-4 to 0-3 for the first time. Newcastle West responded in kind before the interval with four also through Declan Brouder (2), Conor Fitzgerald and Keith Power. Fitzgerald's effort was after he intercepted a misdirected short kick out and returned it over the bar. The west Limerick men led at the interval 0-7 to 0-4.
On the resumption, Newcastle West quickly set about building on their half time advantage and points by skipper Jonathon Carey and Conor Fitzgerald provided a five point cushion by the 48th minute. It appeared that the westerners were on their way but Patrickswell were working from a different script and just as they did in the first half, they responded with a four point barrage to trim the margin back to the minimum. David Woulfe, Jack Kelleher, Mark Carmody and former hurling All-Star Brian Murray, in his first intervention after coming off the bench, all found the radar to heap pressure on the pre-match favourites.
It spurred Newcastle West into action and a sweeping move up field involving a number of players ended with Cian Sheehan directing the ball past Gary Murphy for the game's first goal and within five minutes, a second arrived. This time Kevin O'Shea rounded off a move with an unstoppable shot to the roof of the Patrickswell net and now with a seven point lead, the winners looked home and dry. There was still fight in the 'Well and within two minutes of the second goal, they carved out a third which was the product of some good interplay and finished with aplomb by Laurence Considine. Declan Brouder and Considine traded late points but Patrickswell were unable to make any further impact on the deficit as Newcastle West closed out the game.
After the game, Seán McAuliffe, Chairman of the Limerick Football Board presented the trophy to Newcastle West's winning captain, Jonathon Carey.
Scorers: Newcastle West: Declan Brouder 0-4, 4f, Cian Sheehan and Kevin O'Shea 1-0 each, Conor Fitzgerald, Keith Power 0-2 each, Michael Martin and Jonathon Carey 0-1 each.
Patrickswell: Laurence Considine 1-2, Jack Kelleher 0-3, Mark Carmody 0-2, David Woulfe and Brian Murray 0-1 each.
Newcastle West: James Stack; Conor Fanning, Tony Kelly, Seoirse Joyce; Michael O'Leary, Seán Barrett, James O'Sullivan; John Lydon, Cian Sheehan; Michael Martin, Declan Brouder, Ronan Kelleher; Jonathon Carey (capt), Conor Fitzgerald and Keith Power.
Subs: Kevin O'Shea for Martin (42), Mike Mulcahy for Fanning (52), James Hennessy for Kelly, Seanie Gleeson for Power and Willie Kavanagh for Kelleher (all 59).
Patrickswell: Gary Murphy; Jason Griffin, Mark Griffin (capt), Brian O'Sullivan; Seán O'Brien, Nigel Foley, Dean Cawley; Brian Byrnes, Paul O'Grady; Mark Carmody, Barry Foley, Laurence Considine; Jack Kelleher, Shane Dinnage and David Woulfe.
Subs: Darragh Bennis for Dinnage (ht), Diarmuid Byrnes for Cawley (40), Brian Murray for Woulfe (46), Paul O'Connor for B. Byrnes (56) and Patrick Woulfe for J. Griffin (59).
Referee: Denis Richardson, Murroe-Boher.