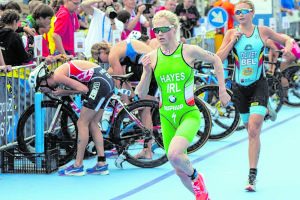 Supremely talented Carolyn Hayes of Newcastle West has qualified to represent Team Ireland in the Triathlon at next month's Olympic Games in Tokyo.
A qualified medical professional, an elated Dr. Hayes told the Weekly Observer: "It is incredible to be announced as a Team Ireland member for Tokyo. The whole journey has been a rollercoaster, emotionally and physically.
"Especially in a sport with three different disciplines (1.5km Swim, 40km Cycle and 10km Run) that you have to master. When I started (some will recall when Carolyn announced herself in the sport at the Hell of the West in 2013), I never thought that I would get to this level, but I just wanted to see how far I could go. Then things started to progress, I started to believe in myself more, and now I'm really excited to see what I can do in Tokyo."
Team Ireland Chef de Mission for Tokyo 2020, Tricia Heberle said: "I'm really pleased to welcome Carolyn to the team. Especially on the back of what has been an intense six weeks of competition schedule for her spanned across three continents.
"Her qualification is a testament to the endurance, determination and strength, and Carolyn is a very positive addition to Team Ireland."
Added Team Ireland Triathlon Performance Director, Stephen Delaney: "I am really delighted to see an athlete of Caroyln's quality progress to an Olympic Games. We've been working with Carolyn on a project that started back in 2014 under my predecessor Tommy Evans to identify athletes with potential for the Tokyo Games.
"Carolyn was one of these athletes so to have her come through is really exciting. We are looking forward to seeing what she can deliver for Team Ireland in the Olympic Games."
Hayes, who is attached to Limerick Triathlon Club, enters the 2020 Olympics on the back of a string of impressive showings of late, highlighted by a stunning silver medal performance in the Triathlon World Cup in Lisbon, Portugal a short few weeks ago. The event was won by double Olympic medallist Nicola Spirig of Switzerland.
The Triathlon will take place in Odaiba Marine Park, close to the famed Rainbow Bridge, from Dawn on Tuesday, July 26th. The early starting time has been implemented as part of one of the heat countermeasures that is being taken in Japan this Summer.
In times long past, Tim Ahearne of Direen, Athea won West Limerick's only Olympic medal when he stunningly took gold with a mighty leap of just under 49 feet in the Triple Jump at the 1908 Games in London.