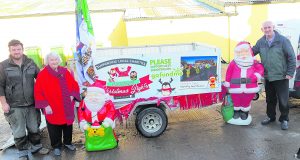 The Noonan family of Noonan's Christmas Lights for Charity took the decision not to go ahead this year with their normal Christmas lights extravaganza, much to their personal disappointment. Tony said he felt saddened and depressed to see all his lights in storage this year.
"It's the first time in 20 years that our All-Ireland winning charity house will not be lit up. We have survived all kinds of weather snowstorms etc, but we always managed each year to keep the show going, the magic never left year in year out.
But this year due to COVID-19 and in the midst of a global pandemic it would be so selfish and reckless of us as a family to allow our event to go ahead. We feel that it would be an insult to our frontline workers who have worked tirelessly to keep people safe in incredibly challenging circumstances and disrespectful to families who lost loved ones to the virus. We couldn't risk the health and safety of all our supporters by holding an outdoor event". Not taking the decision lightly, Tony spoke to many before making a final decision. "Before we officially made our announcement that our lights were not going ahead, we spoke with all local public representatives, all our charities, local Gardaí, our sponsors, and senior officials in the HSE. We were told by our insurance company that we could not get cover for the event. The health and safety of our supporters had to be our number one priority. And we could not risk non-compliance of restrictions on outdoor gatherings". While recognising that these restrictions are put in place for the safety of the public, it was nonetheless a hard decision to make. The Noonan family are passionate about their chosen charities and have raised in excess of €250,000 in the past twenty years. In an effort to continue the family's support of their charities, they have set up a GoFundMe event on their Facebook page. This year it has been particularly hard for charities to raise funds. Tony Noonan said "we have been asked to share the charities for this year's campaign, and while it has been difficult to select just six, our charities for this year are Brothers of Charity, Recovery Hazen Tralee, CRY, Monagea, Milford Care Centre, Peter McVerry Trust and CARI – Shining a Light for Children". Tony concluded that the safest way of raising funds was online. He is delighted by the support given so far. And even though the main focus has always been the charities, the family have not forgotten the children who have delighted in the Christmas lights show every year. So, they contacted the main man himself, Santa Claus. Tony is now doing the job of the reindeer by taking Santa to visit local schools. His van and trailer are completely transformed and are resplendent with Christmas décor suitable for transporting such a special guest. These visits are free of charge and even though Santa is not able to personally greet each child, they are reassured by his appearance, knowing he is still on course for making the trip around the world on Christmas Eve. He's even distributing a few seasonal treats. The display is a welcome relief from the hardship the year has brought to children and adults in the locality. It's delightful to see the joy on children's faces at a time when visiting a Santa grotto may not be possible for many. Today, Santa visited Monagea, Tournafulla, Mountcollins and Meenkilly National Schools. He will continue to visit schools in the locality in the coming days.
The Noonan family are infinitely grateful for the support they've been shown so far, and especially to Fit All Shopfitters and Signage, Abbeyfeale, for sponsoring the amazing cheerful and seasonal graphics on the trailer and the van, and to Al Trailer Hire in Croom for their sponsorship of a brand new trailer for the Charity Event. They are also incredibly grateful to Limerick hurlers, Nickie Quaid and Iain Corbett for throwing their weight behind the event by acting as ambassadors.
"People have been so generous", Tony said. "Everybody understands why we were unable to go ahead with our usual Christmas display and are happy to support our online event".
Irish charities have had a particularly challenging year in the absence of usual fundraising events. Helen Martin, Charities Regulator CEO said, "The current public health crisis has put an enormous amount of pressure on many registered charities that are increasingly called upon to provide services, while facing unprecedented difficulties with regard to their traditional methods of fundraising".
It's great to see that Noonan's still continue their efforts of support in a time when charities need it most.
"We're grateful for every donation, no matter how big or small", Tony said.
If you would like to support the Noonan Family's online event, you'll find it on their Facebook page, Noonan's Christmas Lights for Charity or go directly to www.gofundme.com/f/noonans-lights-for-charity. If you would prefer to donate directly, the bank details are IE32 AIBK 9350 1804 2640 39 (BIC AIBK IE2D).
Tony's final words are "if possible, please support our event. Again, many thanks for, as always, for standing by us, it's very much appreciated, now more than ever. Next year, with God's help, we'll be back bigger and brighter than ever.