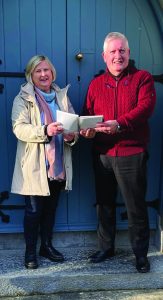 As part of the 125th celebrations in Lisgriffin Church this Friday 9th December, a number of Flower Clubs, schools and individuals have come together to decorate each of the eleven windows of the church as well as highlighting other integral aspects of the church interior.
Siobhán McInerney from the Charleville Flower Club has been working hard behind the scenes for the last number of weeks in the planning of this Flower Festival. She has close ties with many of the Flower Clubs in the North and East Cork areas and has succeeded in bringing together a show of strength and co-operation in presenting this Festival.
Fr. Eugene Baker Parish Priest of Buttevant & Lisgriffin has been delighted to accommodate the Flower Festival as part of the 125th anniversary of the dedication of the church to the Immaculate Conception of the Blessed Virgin Mary which happened on the 8th December 1897 by Bishop Robert Browne, Bishop of Cloyne. " The original idea of hosting a Flower Festival in Lisgriffin church came from my sister, Anne Baker, who works with the Mitchelstown Flower and Garden Club. Over a lazy cuppa tea one Sunday I was sharing my thoughts on the anniversary celebration and she suggested that it would be a fitting way to celebrate the church building with a Flower Festival and that December would be a great time of the year to in attracting other Clubs to be involved." said Fr. Baker.
Now that idea has sprung into reality and the Flower Festival will open on Friday 9th December at 3pm and will run until Sunday 11th December closing at 5pm. Entry to the Festival is free and there will be a donation box at the altar rails at the church where spectators can donate to the SVDP Annual Christmas Appeal.
The list of participants, the theme of their display and the group they represent are as follows:
Rose Hickey, 'Con-firmation', Conna Flower & Garden Club.
Siobhan McInerney, 'Marriage', Charleville Flower & Garden Club.
Kathleen Barrett, 'Oil of the Sick', Newcastle West Flower Club.
Lisgriffin National School, 'Togetherness', All Classes.
Mary Sheehan and Catherine O'Connell, 'Christmas Spirit', Mallow Flower & Garden Club.
Gretta Kenny, 'Confession', Gretta's Flower Shop Mallow.
Ann O'Leary, 'Holy Communion', Fermoy Flower & Garden Club.
Buttevant Primary School, 'Celebration', First Class Pupils.
Geraldine McCarthy, 'Ordination', Charleville Flower & Garden Club.
Rosemary Doody and Anne Baker, 'Thanks-giving', Mitchelstown Flower & Garden Club.
Mary Carver, 'Christmas', Charleville Flower & Garden Club.
Patricia Ryan, 'Christmas Spirit', Waterhouse, Buttevant.
Mary Duane, 'Baptism', Mallow Flower & Garden Club.
Siobhan McInerney, 'Welcome', Charleville Flower & Garden Club.