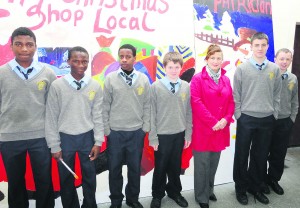 Transition Year and second year art students in the Patrician Academy are involved in a project to encourage people to shop local and support businesses in Mallow over the Christmas period. The project is being facilitated by art teacher, Mrs. Regina Glynn who says that students are very enthusiastic about being involved in a community-based project. Students decided that the theme of the project would be 'Shop Local – Keep your Christmas Business in Mallow'.
Over the last two months students have painted boards with Christmas scenes encouraging people to shop local. Cllr. Noel O'Connor, who was initially approached by the school about the initiative, facilitated links with the Tidy Towns committee and the Chamber of Commerce. The Chamber provided advice on slogans and the idea of supporting local businesses while the Tidy Towns Committee sponsored the boards and paints and are advising on the most appropriate location for the painted boards. It is hoped to display the boards in the Main Street over the Christmas period.
Principal Catherine Fitzpatrick praised all those involved in the initiative, saying it was a very good example of schools and community groups working together for the good of the local community.