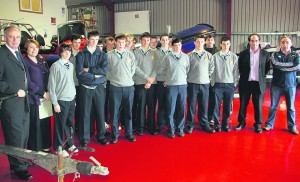 The Patrician Academy has organised a Sponsored Walk and Family Fun Day in aid of the new sports hall/gym which will open shortly. The walk and fun day will take place on Sunday, October 21st. Pupils, parents, friends and supporters in the wider community are invited to participate in this event. The walk will start from the school at 2.30 pm and will finish at about 3.30 pm.
There will be a Soccer Blitz in the new Hall for fifth and sixth class primary school pupils, starting at 3.30pm, as well as other fun games, such as face painting, music and refreshments. Fundraising Committee, Chairman, Ray O'Mullane encouraged the local community to support the event, saying that it is a Family Fun Day. The event will provide an opportunity for parents and the wider local community to view the improved facilities in the school.
Principal, Catherine Fitzpatrick said the construction of the new Sports Hall/Gym was a very exciting development for the school community as it greatly enhances sport and leisure facilities for students and the local community. It is yet another milestone in the history of the school which has been educating young men in the Mallow area for the last 134 years.
The Sports Hall will accommodate badminton, basketball, soccer, volleyball and handball and the facilities are available for rental to local community groups.