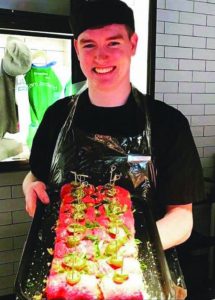 On the 2nd of September, Patrick Byrnes ,will be representing Ireland in the World Butcher Challenge in Sacramento, California, USA. Thirteen countries will be competing in the greatest butchery competition on earth.
Patrick is the only Apprentice Butcher representing Ireland in what is known as the 'Olympics of meat'
Patrick started his Butchering apprenticeship in February 2019 with the MSLETB(Mayo, Sligo, and Leitrim Education and Training Board) through the Craft Butcher of Ireland and which his mentor Garrett Landers of Garrett's Limerick who is the captain of the last team to win the last World Butchers' challenge which was held in Belfast in 2018.
In May, Patrick got the call, he was selected to Represent Ireland in the 2022 World Butchers Challenge.
He will be given 2.5 hours and within this timeframe he will have to break down beef, lamb, chicken and pork, He will have to make a World Champion and competitive display in that time.
Points will be awarded for hygiene and safety, skills, speed and efficiency, product creativity and how innovative the display is.