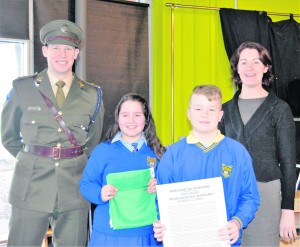 In line with the Flags for Schools Initiative to commemorate the centenary of the 1916 Rising and to celebrate 100 years since the Proclamation of the Irish Republic, the Government has tasked Óglaigh na hÉireann with delivering a National Flag to every Primary School in the country. This key part of the Ireland 2016 commemorative programme was celebrated in Gaelscoil O'Doghair on Monday 8th when a member of Óglaigh na hÉireann, in uniform, visited the schoolchildren, teachers and parents in the Gaelscoil. Following the reading of the 1916 Proclamation, a copy of the Proclamation and the National Flag were formally presented to the pupils. 
The children were taught about how the National Flag should be cared for and the protocol that surrounds this vibrant symbol of our nation. The 1916 Proclamation was also explained and put in context and a Q&A session gave the children the opportunity to ask many questions about 1916 and modern army life. The pupils then sang Amhrán na bhFiann beautifully.
Many thanks to Shay for providing an insight into 1916 for the pupils and for his enthusiasm in doing so. Míle buíochas. 
The Initiative will culminate in Proclamation Day on 15th March 2016, where every school, including the Gaelscoil, will raise the National Flag in special ceremonies and the 1916 Proclamation will be read. Gaelscoil O'Doghair will be holding its annual Lá Glas on the same day. The children will enjoy a céilí, singing and traditional music played by the school trad band. Parents and family are welcome to attend.