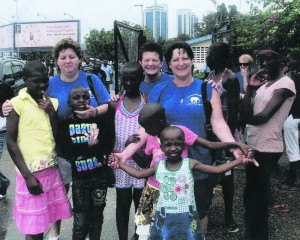 A pub quiz in aid of the Street Children's Project in Tanzania East Africa will be held in Mike Houlihan's Pub, Kilmallock on Friday May 11th at 9.00 p.m. sharp.
Local women Imelda O'Riordan, Bruff and Pauline Dore, Kilmallock are travelling to Tanzania in June to work with orphans in Der Es Salaam. The children, many suffering with HIV, have been left orphaned by the HIV/AIDS epidemic. The children's home has been set up to help the children, many rescued from the streets of Tanzania. The orphans are given basic food and care in a safe and supportive shelter, a basic education and better chance in life.
Pauline and Imelda will be working with the children playing sport, doing art and crafts and also stimulating the young children with care and love, hoping to boost their emotional development. We also hope to provide some funds for some repairs to the children's home. Please come and support this cause. Contact 086-3628060.