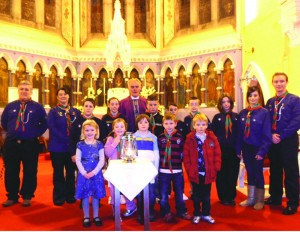 On the 8th of December a candle was lit in the Grotto of Christ's Birth in the Church of the Nativity, in Bethlehem. This flame was taken by young Israeli and Palestinian Scouts to Austria where scouts and guides from all over Europe gathered to pass the flame across Europe. Members of Scouting Ireland collected the Light in Holyhead, brought it to Dublin and passed it around Ireland. On its arrival in Limerick last Friday 16th, an Ecumenical Service Reception was held in St. Joseph's Church Limerick. Some of our Cub Scouts and Leaders attended and brought the Peace Light to Rathkeale.
On Saturday, beaver scouts, cub scouts and leaders presented the Light at St. Mary's Church evening Mass and the following day, the Light was presented to Cappagh Church on Sunday morning Mass. It was a poignant occasion for all involved.
The Peace Light was also taken to the Adare and District Nursing Home where it was very well received.
By passing on this Peace Light from Bethlehem we want to help to overcome the darkness caused by hate, egoism, materialism and spread happiness and hope into the hearts of all those who come in contact with it.
Rathkeale Scout Group are honoured to be part of this symbolic event, and for next year to spread the Peace Light throughout our community and further afield. Thanks to all who participated. Thanks also to all who have supported the Church gate collection and 12 Days of Christmas Draw. It is greatly appreciated and hugely beneficial to our group. We would like to wish everyone a Happy and Peaceful Christmas and a Prosperous New Year.