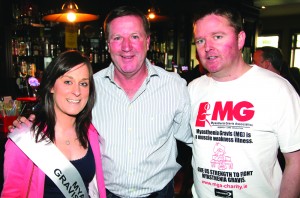 Charleville soccer club is supporting former Republic of Ireland and Liverpool star Ronnie Whelan's Annual Charity Walk which visited Charleville on Friday last.
The charity is Myasthenia Gravis. Ronnie was in O'Connell's Bar on Friday last and had a great discussion about his football career and the charity he is involved in. Ronnie signed a Liverpool jersey, a Rep of Ireland jersey a number of copies of his autobiography and some footballs and these prizes are being raffled in O'Connell's Bar this Sunday evening with all the proceeds going to this very worthy charity. Tickets are on sale in O'Connell's Bar €2 a line or 3 for €5. Many thanks to all who supported the night last week in particular the sponsors.
ANNUAL GENERAL MEETING POSTPONED
The A.G.M. of Charleville A.F.C. originally fixed for Friday next 7th June has been postponed. The new date will be notified in due course.
BEST OF LUCK
IN EXAMS
Best of luck to all club members who are currently sitting exams.
GIRLS GAYNOR CUP A GREAT SUCCESS
The girls U14 Gaynor Cup took place at U.L. last weekend with Limerick County finishing in third spot overall. Well done to all the County squad and management and especially to Charleville players Emily O'Flynn, Caitlin Reynolds and Lauren Corrigan who were members of the squad
KENNEDY CUP IN U.L. NEXT WEEK
The U14 boys Inter League Kennedy Cup commences on Monday next in University of Limerick and concludes on Friday week. Best of luck to the Limerick County squad and management and particular best wishes to club players Jessie Smith, Tom Hanley, Jack Callaghan, Tim Hawe, PJ. Herr and Brian Buckley who are members of the squad.
Lottery
There was no winner of the jackpot of €6,500 in the draw held on June 4th. The teams drawn this week were: Liverpool 1, West Brom 4, Fulham 12, Valencia 30. The five lucky dip winners, €25 each, were Tess Bowles, 26 Kennedy Place, Jim Crowley, 10 Kennedy Place, Sam Hartigan, c/o Pat Hartigan, Eoghan Buckley, Broghill North, Gavin Morrissey, Ballyhea. Next week's jackpot will be €6,600 and the draw will be held in Dinny's Bar.