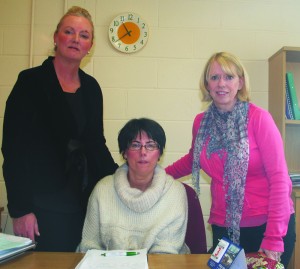 The staff and Parents Association of Coláiste na Trócaire have joined forces this weekend to host a major career event in the school on this Saturday October 13th commencing at 9.30 p.m.
The day Your Career – Your Choice will be split into two sessions and will focus on all aspects of careers helping students drawn from the three senior classes in the school to focus on their futures.
Due to Department of Education cuts the students are losing valuable Career Guidance hours at the school prompting the Parents Association to take action, and following discussion with the School Principal it was decided to facilitate a Careers Day out of school hours. As a result of this day, it is hoped that students will gain valuable knowledge to help and guide them in choosing their career path.
The day will be split into two sessions. The morning will be a unique half day Career Workshop from 9.30 a.m. to 1.00 p.m. for Leaving Certificate students designed to help them understand how to make career choices based on what interests them, their innate and developed skills, their unique personality and core values. Facilitated by Pat Hennessy and Mary T. Tierney this will be a practical and interactive introduction to the real world of careers, students learn how much responsibility they actually have for their own career and enhance their sense of control over what career they may choose and what direction they may take.
"The Parents Association, along with Lorna Bunyan and Kevin Cusack have spent many hours since last February planning this day. We hope the students and parents will benefit from the day. The morning session is quite unique in that the workshop that is being delivered will be of huge benefit to the students. We want the students to realise that there is more than one way to achieve their career goals," explained Cathy O'Donnell of the Parents Association.
The afternoon will be a more informal session from 2.00 p.m. to 4.00 p.m. and will be open to students, parents and guardians of Coláiste na Trócaire. A number of people have been invited to attend from an extensive spectrum of careers and educational establishments, and this will afford students, parents and guardians an opportunity to move around and interact with all people in attendance and engage in individual/group discussions. As it is hoped, those in attendance can give students an insight into the steps they took from their Leaving Certificate to the point they are currently at in their education/career. It is hoped that this knowledge and experience will be of great benefit to students wishing to explore similar avenues.
While the afternoon session takes place Ms. Harrison, the Career Guidance Counselor at Coláiste na Trócaire will provide a CAO workshop for parents and guardians.
Speaking this week, Deputy Principal Lorna Bunyan said "I am delighted that Coláiste na Trócaire and the Parents' Association are in partnership with this venture. I have no doubt that this day will be of huge benefit to our students. I'd like to thank everyone who is part of this wonderful event. It is great to see a lot of our past students back giving advice and guidance to our present students".
The Parents Association would like to thank all the people who are coming and generously giving of their free time on the Saturday, without which, they could not run this event. They also thank Euro Spar who have generously sponsored the catering for this event.