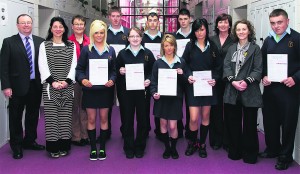 Leaving Certificate Applied session 1 results arrived in Scoil Pól from the Department of Education and Skills last week. The LCA students are awarded credits for work done in a number of subjects, key assignments and tasks.
The task that our students undertook was to fundraise for two charities very close to the hearts of the class, Down Syndrome Ireland and Limerick Animal Welfare. This fundraising involved students hosting a Spanish day and they organised events like a non-uniform day, bingo and a food fair, all with a Spanish theme. These events were for all students in the school and involved a huge amount of planning and work.
For the first time ever in Scoil Pól every student in the class achieved the maximum credits of 10 for their work. These results reflect the tremendous effort and commitment of the students supported by all their teachers. Congratulations to Robert Ahern, Clara Kirby, Liam Murray, Stacey O' Mahony, Adrian O' Sullivan, Elaine Rea, Vinny Sampson and Lorraine Young. We are very proud of your unique achievement and wish you all continued success in the remaining three sessions.