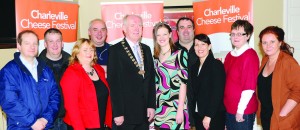 Charleville Cheese Festival this week was officially launched last Tuesday in the Charleville Park Hotel. The committee has put together an exciting programme of family events for this year's event. The festival was revived last year after an absence of 21 years, and this year's Festival promises to be bigger and better than ever.
During the weekend of Friday 25th to Sunday 27th May the town of Charleville will host a festival that in the past was one of the summer highlights for festival lovers throughout Cork and Munster. Topping this year's festival is the hugely popular Charleville Festival Queen competition which was won last year by Lisa McAuliffe. 15 Festival Queen hopefuls from Charleville and the surrounding area will gather in the Charleville Park Hotel on Sunday 27th May to compete for the prestigious crown and the chance to represent the town of Charleville in the Cork heat of the Rose of Tralee. The winner will also receive €500 in prize money. Tickets for the event will be available locally in the coming days.
Representatives from Charleville's cultural, business, sporting and community groups have been working tirelessly over the last year to put together an exciting programme to cater for all interests and age groups.
The festival will begin with a parade of vintage cars which will introduce the Festival Queen contestants to festival goers. The festival will be opened by Danny Flynn and Claude Gough, team and club captains of the hugely successful Charleville hurling team who won both the County and Munster Junior Hurling Club Championship. Other events and activities include a Fantastic Family Fun Day on Sunday in the Town Park, a community Expo, a children's art competition and live entertainment including performers from some local schools.
Commenting at the recent Festival launch, Gerard Cott, Charleville Cheese Festival President, commented: "Not surprisingly, there is great excitement around Charleville with the build up to the festival. We are really proud of the way everyone has worked hard together to put an action-packed weekend of exciting events and activities in place that will provide a great showcase for the town to everyone who visits Charleville that weekend."
For more on Charleville Cheese Festival, visit www.charlevillecheesefestival.com or Facebook Charleville Cheese Festival.