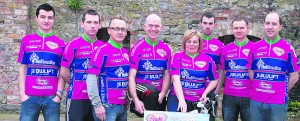 Back in September 2011, Liam Mulcahy had a plan. Liam put it out there and the response was just tremendous. From leisure cyclists, to large companies, to cycling clubs, to families and from so many corners of Ireland, people wanted to help. So here we are, starting tomorrow, March 2nd, in Limerick 45 plus riders will take on a unique challenge all designed to help one little girl to find a path for her future.
Sophie Mulcahy is a 5 year old girl living in Limerick, whose dad, Liam Mulcahy, is from Kilmallock. Sophie suffers from a rare condition called Ohdo Syndrome and is one of only 30 known cases in the world. She has battled an amazing 6 open heart operations and suffered numerous setbacks such as lung and kidney failure. Sophie spent her stay in the Our Lady's Children's Hospital, Crumlin, in the Intensive Care Unit in the top class care of Freddie Wood and Colin McMahon. She has been in the care of the Jack and Jill Foundation since returning home. Since birth she has been battling for services she is very much entitled too. Sophie is a very happy, beautiful little girl but she cannot walk or talk and is peg fed (by tube through her stomach). There is currently not that much information on Ohdo syndrome as it is new to the scene of genetics. There is little information, as all children are different in their own unique way, no two can be judged the same. This is only a guideline to the basic information. There are currently other parents that have used the support groups in the States and Manchester in helping to deal with the syndrome. The aim is to get Sophie to these clinics to find a path for her future. The syndrome deals with different scales of Ohdo. Some children have not survived the heart operations so we are very thankful to have Sophie with us. From far and near, cyclists and people who cycle for leisure have signed up for this cycle to try to help Sophie. They have sponsorship cards so please if you can help it would be very much appreciated. For more information on how you can help, please contact Liam on 087 7642550.
On Friday the cycle will leave Limerick and head for Adare, Newcastlewest, Abbeyfeale, Newcastle West, Bruree and Kilmallock. Day 2 will see the riders leave Kilmallock heading for Charleville, Mallow, Lismore, The Vee, and Cahir. Day 3 is Cahir to Limerick. Some very tough climbs, especially The Vee, with some serious distance on the bike will make this a tough challenge for anyone involved. Alongside the 45 riders will also be stage riders who will most likely come close to doubling the number on the road. We thank you for your support and if you happen to see the group passing, please give them a wave and a bit of support.
Quiz Nights: The first table quiz will take place tonight Thursday March 1st in the Strand Hotel, Limerick. Entry is €40 per table and four to a table. All monies will go towards the Sophie Mulcahy Fund. Your quiz master for the night is John Carty. Big prizes. The quiz is the first of two being run. The second quiz takes place on Friday March 2nd in Kilmallock's Deebert House Hotel. Your support is very much appreciated for this amazing little lady. There will be a raffle on the night for some amazing prizes!