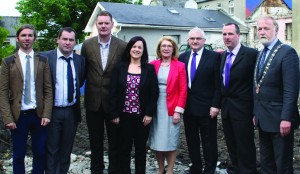 It was a landmark day for St. Vincent de Paul on Monday when the organi-sation's development project at Maiden Street Newcastle West got under way.
The start of construction of this exciting new develop-ment was marked by an official turning of the sod by  Jan O'Sullivan, Minis-ter of State, alongside Jerome Scanlan, Cath-aoirleach Limerick County Council, and Patrick O'Donovan T.D.
St Vincent de Paul is demolishing the derelict buildings on the existing site and in their place will be four sheltered apart-ments, a large store area, and a multipurpose board-room which can serve many functions as required by S.V.P and the local community.
Kenneally & Murphy Ltd, Abbeyfeale, designed the new split-level landmark development to satisfy planners' initial concerns and to give St. Vincent de Paul and the local community a building that is both pragmatic to the needs of the area and visually a building that would enhance the area for years to come.
Speaking at Monday's ceremony, Denis Buicke, S.V.P Area President said "As early as 2000 John Hickey, the then-Area President of St. Vincent de Paul had the vision and the determination to get this project up and running. John, sadly passed away since but today's turning of the sod ceremony is attended by his wife Mary Hickey who remains a very active member of St. Vincent de Paul. This development will form part of John Hickey's legacy.Our aim is that nobody will be hungry or homeless in west Limerick, this project is to look after the people that need it."
See photos on Page 6.