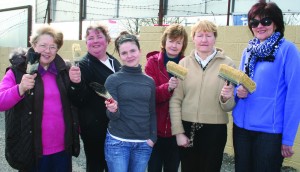 Part of the Brothers of Charity, Newcastle West, underwent a makeover last Thursday morning when twelve ladies stepped in and voluntarily painted some of the external and perimeter walls.
It is the second year that the women, who are part of the Stepping Stones Project and are based at the Community Centre in Tournafulla, volunteered for the work at the Brothers of Charity facility.
The Stepping Stones Project aims to upskill participants to enable them to continue to further education or work. Currently the participants are studying for the FETAC Level 4 award in General Learning. Modules offered on this course include IT, Maths, Communications, Painting, Drawing and Photography. The ladies attend the programme three mornings per week.
This programme is funded under the Equality for Women Measure 2010-2013, with funding from the European Social Fund (ESF) through the Human Capital Investment Operational Programme 2007-2013 and the Department of Justice and Equality.