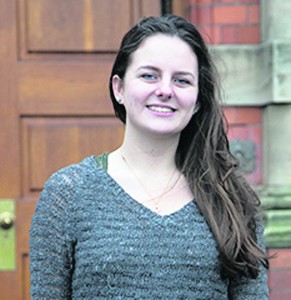 A Harper Adams University entomology Masters student has been awarded third place in the Royal Entomological Society Student Award 2015.
Laura Healy, 22, Charleville wrote about 'A Day in the Life of a Female Dung Beetle' from the perspective of the dung beetle. The humorous story-like submission follows a female dung beetle as she chooses a mate, makes a ball from dung which she then takes on an exhausting journey, to when she stops and lays her eggs.
On why she chose such a creative narrative, Laura said: "We were able to write the entry in any style we liked. I guess I wanted to be as different and experimental as possible as there were no boundaries.
"I decided to write about dung beetles as they are really important to the ecosystem. They usually get overshadowed by prettier creatures, such as bees and butterflies, but I thought it would be good to give the dung beetle a bit of attention for a change.
"I originally became interested in entomology whist studying zoology at Trinity College Dublin. There was a small module on entomology but I felt it was far too short for the amount of information there is on the subject. I decided I wanted to do my Masters in entomology, but there were no courses in Ireland and Harper Adams is the only university in the UK that has MSc courses in the subject, so I decided to come here.
"I feel delighted that I won third place in the competition. I've always liked English writing and biology and to be recognised for what I enjoy is brilliant. I've loved combining art and science together."
Professor of entomology, Simon Leather said: "I'm absolutely delighted that Laura has won this prize. It is an international competition which draws entries from students around the world and Laura has done very well to get third prize."
For being awarded third place, Laura's article will be published in the Royal Entomological Society's magazine 'Antenna' and she will receive £150.