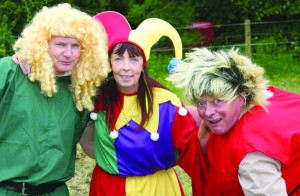 Buttevant Heritage Group held an extremely successful weekend of festivities to celebrate the inclusion of the town in the Irish Walled Towns Network.
On Saturday evening there was much mirth and laughter in the grounds of Market House as John and Carmel Lee were selected as Viscount and Lady Buttevant 2012. Chosen following a series of m medieval games including horse shoes, skittles, archery and a 13th century style Mr and Mrs quiz, they fought off stiff competition from Sarah McEneaney and Tom Blake, Wendy Kruger and Darren Richmond and Dolores Cronin and Mick Lawless. Our sincere thanks to the four couples for participating and providing such fantastic entertainment. A big thanks is due to Jeanette Guiney for producing the fabulous Lord and Lady cloaks, Frank Kruger for providing the archery equipment, Liam Fitzgerald for the skittles, our photographers Colin Leahy and Mike Johnson and to Pat Hynes for compering the event. We were delighted to have Liam Mannix from the Heritage Council present to announce the winners. This was followed by a fabulous Evening of Music and Memories in Market House with A Tribute To The Sisters Of Mercy. The show was written and produced by Theresa and Jerry Hynes with sound provided by Kieran Hynes. As Sr Agnes said, it was a wonderful evening which evoked many fond memories for those present. Gabriel O'Callaghan and Catherine Roche were brilliant as narrators as were the students from the Intermediate Dorada Dancers and of course great credit is due to the wonderful musicians Helen Fitzpatrick, Liam Fitzgerald, James Barry, Catherine Horgan and John Horgan. The cast from Sister Act were as ever both professional and hilarious. The evening was finished off with a cheese and wine reception while those present enjoyed a DVD compila-tion of photographs of the Sisters of Mercy's years in Buttevant compiled beau-tifully by Theresa Hynes.
Sunday dawned bright and dry and under rare blue skies and sunshine the crowd of over 1,700 were treated to such an amazing array of entertainment that to choose a highlight from the day would be impossible. At the Castle Walls visitors were treated to a traditional Country Market where an abundance of home baking and crafts were available to purchase and it was heartening to see so many local young people selling their wares.
Once inside the grounds, the day began with the Inter Firm Tug O'War competition showcasing Buttevant's fierce but friendly rivalry. 7 teams competed with McCarthys Bar emerging victorious over McDonals in a hard fought final which went down to the last pull. The large crowd gathered really got behind the teams and the excitement was palpable.
For many the Battle Re-enactments proved an unforgettable experience as members of Bran Dubh and Kilmallock Medieval Combat Societies went to war complete with their swords and shields and showing no mercy! Their professionalism and patience was tested when hordes of local youngsters engaged in their own Medieval Battle, something akin to Lord of the Flies, which thrilled both the kids and spectators alike.
The beautiful Castle Grounds were a rainbow of colour with a cacophony of knights, jesters, wenches and damsels (some in distress) catering to everyone's needs and the Heritage Group wish to thank everyone who got into their "medieval persona" to help out on the day. In keeping with traditions there were simple novelty games including skittles and horse-shoe throwing, stocks, archery demon-strations, traditional crafts and a puc fada com-petition.
The younger members of the crowd were enthralled with a treasure hunt, puppet show, face painting and sports, all of which ensured very tired but happy children.
The evening concluded with John Lee and Liam O'Gorman re-enacting the final stage of the famous steeplechase between Doneraile and Buttevant which was immediately followed by a Medieval "Buttevant's Got Talent" show. The show which was highly entertaining featured well known performers including the Dorada Dancers, Buttevant Medieval Singers, Alan Finn, Nollaig O'Connor and the amazing talents John Pat Murphy, Terri O'Gorman and John O'Connell. Audience participation was encouraged and those who didn't perform too well ended up in gaol!
Overall, the day was an outstanding success with attendance well beyond our expectations. It would be impossible to individually thank everyone who helped to make the weekend so memorable, but be assured the Heritage Group are extremely grateful to all who assisted in the organisation and execution of the day and to all those who came along and supported us. We are eternely grateful to our sponsors DP Energy for their generous sponsorship and also to the Nagle family for the use of the Castle grounds. Planning will begin shortly to make the 2013 Walled Town Day even bigger and better. Anyone interested in joining this interesting and progressive group is welcome to contact any member of the Heritage Group or visit our Facebook Page "Buttevant Walled Town Day".