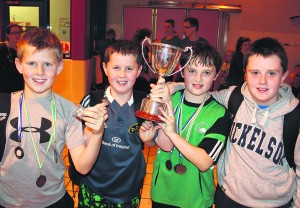 The Mallow Swans Invitational Gala, held last Saturday in Mallow Swimming Complex, was a great success, and the club  would like to say a big thank you to all parents/guardians who turned up to help out and support our club. Without your help we would not be able to run such a great fundraising event. I would also like to say thank you to all those who provided food on the day for the shop. The shop is getting very popular and has become a good fundraiser for the club. We would like to thank Tom Fouhy, our ref on the day, and also all our sponsors.
A big thank you must go to our Chairperson, John Ferris, who put in hours of work getting the touch pads ready for the day and also organising the pool. Ann McCarthy, our gala secretary, put in hours of extra training to run the touch pads on the day and this was on top of all the hours she puts in getting ready for each gala. Thank you also to Jenny McCarthy who also put in extra hours to help with the running of the computer on the day. Special thanks must also go to Seamus O'Keeffe and Jason Kenny for all their help.
Congratulations to all the swimmers. There were some great swims on the day, and also a great atmosphere. Competition was strong and there was a great cheer when Mallow won the Best Club Award. Askeaton won the Best Away Club title. We have had e-mails from most of the clubs who attended, thanking us for a great and very well organised event.
Sunday night saw the White Collar Boxing event which was a great success and a great night, very well supported. Thanks to those of you from the club who came along on the night, and congrats to all the boxers who took part, especially John O'Donoghue, Arif Yilmaz and Kieran Horgan who were representing Mallow Swans. A big big thank you to Kieran Horgan for all the hours of work he put into making the event the success it was.
Don't forget, our flag day takes place this Saturday. Please support.