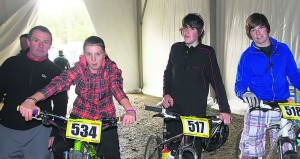 Sunday last saw another major mountain biking event held in the Ballyhoura Mountains. Just a few weeks after the World Single Speed Championships had been held there, Team Ballyhoura Mountain Bike Club hosted one of the biggest and longest Cross Country MTB races of the year. This was a huge under taking by our club as we are a relatively new and small club. Most cross country races are run on a lap's basis, with one lap being around 5-6km. This was a marathon race though so it consisted of one lap of 65km. For the route we used a lot of the official Coilte trails with some natural trails that we had cleaned up ourselves. After selecting the route and mapping it we had the mammoth task of signing it, which kept 12 of our members busy every evening for a week. We also needed a huge amount of marshals on the day to oversee the race, Club members, locals, family and friends all chipped in to help and made the event a great success. The race has been getting great praise from all the racers and has put our club firmly on the mountain biking map. Overall winner of the event Ryan Sherlock, who is a professional cyclist and competes across Ireland and Europe in various disciplines, said the event was run to a "world class" standard.
The race itself was an exciting affair, a small group of elite riders forged ahead from the start and broke away from the other racers, all 118 of them. This pack consisted of Niall Davis who is currently the World Single Speed Champion, Ryan Sherlock and Ray Shaughnessy followed by Aidan McDonald a few minutes behind. Each man took their turn out in front but last year's marathon champion Ryan Sherlock proved why he was again the favourite by storming to victory with an impressive time of 3hrs 4 mins. This course would take an average rider over 6 hours to complete. 16 minutes later Niall Davis crossed the line followed shortly by Aidan McDonald who had made ground and passed Ray Shaughnessy just before the finish.
Competitors from our own club was Peter Walsh who is a great competitor. Peter was unfortunate early on and broke his chain a few km into the race, after fixing it he had to work his way through the pack and eventually passed 92 people and finished in 3hrs 55mins. Charlie Murphy also had a good race and finished in a respectable 4hrs 37mins. One of or female members Roisin Hickey also took up the challenge and finished 4th in the ladies category. We also ran a Mini Marathon in conjunction with the main race. This race had 35 competitors and was 23 km in length and followed the first section of the main marathon route. Our club had a great result in this race with Tom Quirke deservedly taking second place and Neil Brennan taking third place. Jonathan Maunsell had a good race and finished fifth, Eoin O' Carroll was ninth and Cillian Holmes was twenty fourth. Well done again to all our racers.
We would like to thank a few people for all the help we received and we were over whelmed by the generosity of the local businesses who sponsored this event. Thanks again to all our sponsors.We also can't thank enough all our members, their family and friends who helped us make this event such a success. You can check out race results, pictures from the race and more info on our forum at www.teamballyhoura.com or our Facebook page.