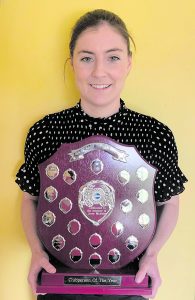 Theresa O'Reilly is the worthy recipient of the 2020 Speakeasy Toastmasters Jerry Mulcahy Award.
Jerry Mulcahy was a highly respected member of the Speakeasy Club who was always committed to promoting the benefits of Toastmasters. He served in several leadership roles within the Club, including President in 2012-2013.
The Jerry Mulcahy Award is presented to the Club member who reflects his spirit and enthusiasm. Theresa O'Reilly provided outstanding leadership in challenging circumstances in 2020. When public gatherings were banned for Public Health reasons, Theresa spearheaded the transition to online Meetings on the then obscure platform called Zoom. Her endeavours and leadership have ensured the continued wellbeing of our Club.
Theresa joined Bishopstown Toastmasters in 2011 because she wanted to develop the confidence to deliver work presentations. She quickly discovered that Toastmasters served several purposes. "Members joined to gain confidence and know how because they may have become President of the local Flower Club or were required to speak at a wedding", says Theresa. "The atmosphere at a Toastmasters Meeting is helpful and encouraging which is why I continued in Toastmasters when I moved back to North Cork. Speakeasy is a very friendly and welcoming Club where members blossom into confident speakers and leaders"
Kanturk resident, Theresa has served in numerous leadership roles within the Club including President in 2020. " Even during lockdown, Speakeasy has been a great night out. We continue to learn and have an enjoyable two hours of escapism. I have enjoyed and continue to enjoy the Toastmasters experience."
Speakeasy Toastmasters meets from September to June. It draws its members from all over the North Cork area. For more information, please check out our website speakeasytoastmasters.com or the Facebook page.