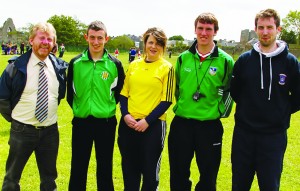 It was a case of third time lucky for a very tenacious Bruff NS, who saw off the stiff challenge of Kilmallock NS in the Coláiste Iósaef Primary School Football Blitz. Having lost the two previous finals Bruff were all out to correct that statistic. Organised by Coláiste Iósaef teachers Noel Kelly and Eddie O'Carroll, this competi-tion, now in its 5th year, has gone from strength to strength and will be very much part of the school calendar for years to come.
Enjoying wonderful wea-ther, the eight teams tak-ing part were very eager to display skill and athlet-icism which they all had in abundance. Ardpatrick, Croom, Effin, Bulgaden, Bruff, Knocklong, and two teams from Kilmallock NS (green and white) were the competitors. Having been welcomed by Coláiste Iósaef teachers and the rules of the day explained, matches began at 10.15am and an enthralling day of football began. All games, apart from the Final, were played in the Kilmallock GAA pitch. The final was played in the Coláiste Iósaef field.
During the first round of matches all teams were testing the others out, all having an eye on the big prize. At semi-final stage tension was heightened. Croom NS lost out to Kilmallock (Green), while in the other semi-final Bruff edged out the other Kilmallock (White) team. The stage was set for an intriguing final between Kilmallock and Bruff, and many wondered if last year's result could be rev-ersed. Time would certainly tell.
After some refreshments and treats in the PE hall in Coláiste Iósaef for par-ticipating teams, teachers and mentors, the eagerly awaited Final began at 1.45pm, with experienced referee Richie Lyons on the whistle. Both teams were passionate in their play as each sought out the other's weakness. Throughout the first half Kilmallock looked the stronger and even though Bruff enjoyed most of the possession it seemed as if they left their shooting boots at home. At the break Kilmallock enjoyed a slender lead, and the question was asked more than once, would it be heartbreak again for Bruff?
On the resumption, Bruff attacked with intent and soon the sides were level, but not for long. Kilmal-lock pulled ahead again, only to find they were trailing within a short space of time. The lead changed more than once and as the clock counted down, it was Bruff who emerged victorious with a two point victory when the final whistle sounded on a scoreline of 5–5 to 4–6. Victory at last for Bruff who now add their name to the trophy as worthy 2012 winners. They now join Kilmallock 2011, Granagh 2010, Knocklong 2009, along with Kilmallock who won the first blitz in 2008.
In his presentation speech, principal of Coláiste Iósaef Mr Seán Twomey thanked all who took part and was loud in his praise for the skill, wonderful spirit and integrity which all teams displayed both on and off the field. He also thanked the teachers of the primary schools who have shown great commitment to this tournament over the past five years.
Organisers Mr. Kelly and Mr. O'Carroll thanked the students of Coláiste Iósaef who were umpires and mentors, Richie Lyons who refereed the Final, and the 5th year students who refereed the other games, Brian Finn, Edel Murphy and Steven Quirke. Once again Coláiste Iósaef appreciates the support from Kilmallock GAA for the use of their pitch. Roll on 2013. Can Bruff defend their crown or will we see a new name added to the roll of honour?