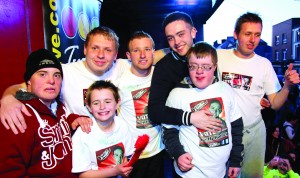 Thousands lined the streets of Charleville on Tuesday evening to accord a hero's welcome to 'Voice of Ireland' winner, Keith Hanley. Crowds had been gathering for up to two hours before the cavalcade bringing the town's latest hero finally arrived at the welcome home stage situated in front of the plaza on the Main Street.
Garda sources confirmed the turnout on Tuesday evening at in excess of 3,000 as young and old converged on the town's main thoroughfare for a night to remember. Many travelled long distances to share in the moment when a town welcomed home one of their own who had been through a remarkable musical journey in the last three months.
The young Charleville performer has the entertainment world at his feet this week following a stunning victory in the final at Dublin's Helix last Sunday evening. The 19 year old student of Early Childcare Studies at Mallow College of Further Educa-tion captured the hearts of the nation who voted for him in vast numbers following his top class performance in Sunday evening's final and sent him to victory over three other finalists.
Keith scooped a lucrative recording contract and it will be down to business next week when plans will be set in train for his debut album which could be released as soon as late summer or early autumn.
The popular young entertainer, who works voluntarily with children with special needs at the Holy Family School, Charleville was quick to dedicate his success to them. "This is for them, music is another form of communication in a positive way, a medicine of hope" he said.
After a rollercoaster few days, the singing sensation plans to take a few days rest before heading back to Dublin on Friday for an appearance on the Late Late Show. See pages 12 and 13.