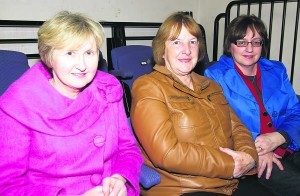 There was a very large turnout of musicians, singers and other entertainers at the Lough Gur April Irish night which was a special tribute to the late musical maestro Johnny Donegan R.I.P. Johnny attended and was a main attraction at the Lough Gur monthly sessions for the best part of twenty years.
Fear a Tí Michael O'Connor who with his wife Péig started and with the help of many regulars run the sessions gave a very special welcome to Johnny's wife Mary and his son Mike who performed on the night with Johnny's great friend Anthony Ryan.
There were glowing tributes and regaling stories from the many people who had known and befriended Johnny, all recalling how he had enriched the lives of everybody who ever came into contact with him, his music and songs as only Johnny could. A cake depicting a fiddle and bow made by Liz Slattery was presented to Johnny's wife Mary by Liz's father Pat. On the night Michael O'Connor also paid tribute to the late Donal Ryan, Johnny Sexton, Terry Tobin and others who were regular participants and who like Johnny will be sadly missed at the monthly gatherings. May they all rest in peace in the presence of God.