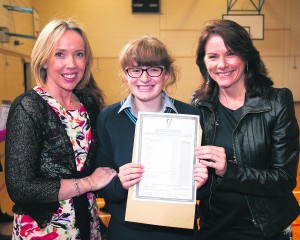 A Charleville student had twelve reasons to smile on Wednesday morning when she received her Junior Certificate results. Jennifer Harmon-O'Driscoll, a student at St. Mary's Secondary School achieved 12 straight As in the June examinations.
Reacting to Jennifer's results, school principal Ann O'Doherty told the Vale Star: "She is a fantastic student, very dedicated and really deserved this great result."
Not far behind Jennifer at St. Mary's was Effin student Etain Clancy who achieved 11 straight As.
Schools around the area are reporting very satisfactory results, as good as and in many cases better than last year's. 58,798 students across the country received their Junior Certificate results yesterday.