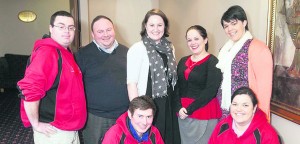 Mitchelstown Macra member Aisling Lewis has been on the campaign trail since the first week of December. When she announced that she was running for the position of National President of Macra Na Feirme, she hit the ground running and now the result is only days away. The 25 year native of Carrigane, Mitchelstown along with her friends, colleagues and acquaintances from Mitchelstown and all the clubs in Avondhu Macra have been a huge support to her. Her parents Tony and Alison, along with her brother Sean who is also involved in the local Mitchelstown Macra club, and her sister Maedhbh, have been towers of strength to her, and so have her grandparents, who are based in Dublin and who she would be residing with, if she were to become President.
On Wednesday night Aisling, who is currently working as a process engineer in Nenagh, finished her sixth round of hustings in the Kilmurray Lodge Hotel in Limerick to rapturous applause from all her supporters. Hustings are a question and answers forum run by Macra Na Feirme to ensure that members across the country get to hear what the candidates have to say. They were held throughout the month of March in Kilkenny, Cork, Navan, Carrick on Shannon, Claremorris and Limerick. Her speech was 8 minutes long with at least 10 questions asked at each hustings.
Hot topics for discussion included CAP reform, finance of the organisation, rural youth issues and retention of Macra membership. Aisling handled all these exceptionally well, drawing on all her experience from Mitchelstown and Avondhu Macra to enhance her answer. "It is tough being put on the spot to answer questions on topics that are so varied," commented Clodagh Carey, secretary of the local Mitchelstown Macra and a member of Aisling's campaign team. "However, Aisling is a bright, educated and passionate girl who is well deserving of being the next President of such a wonderful organisation."
Aisling is running against Kieran O'Dowd from South Sligo Macra. He is a 35 year old barrister who has served as North West Vice President for the last two years as well as serving as National Chairperson of the organisation. Kieran is from a rural background. "It is nice to have competition in a race like this," commented Aisling. "It shows the great strength in Macra and the amount of interest the people have in its future."
Aisling has a vast amount of experience in the organisation which requires the President to take on the role on a full time basis. She was awarded a Bank of Ireland National Leadership Award for her efforts in Macra last January, while she reached two debating finals in 2011 and 2012. The voting is now under way, with over 200 clubs across the country getting the chance to vote via post. Ballot papers are in the hands of the secretaries and the deadline is 1pm on Tuesday next April 9th. The results will be announced after. Aisling is a superb candidate who wishes to continue the work of the current President of Macra, Alan Jagoe who is also from Cork. She is young, dynamic and is willing to fight for the organisation. We wish Aisling all the best in her quest.