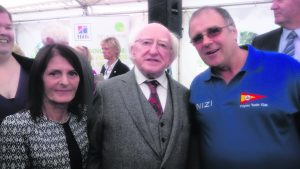 A west Limerick man will set off from Limerick in early May to sail around Ireland, a voyage that will take up to two months to complete before he sails into Foynes.
Chris Egan from Cool-cappa-Kilcolman is taking on the marathon sail and for a very good cause, to raise funds for the Irish Guide Dogs and the RNLI.
Chris, a father of two, was diagnosed in 2015 with retinitis pigmentosa which will see him lose his sight and is registered legally blind. He currently uses a long cane to aid mobility. Chris, an employee of An Post, will be accompanied on trip around the Irish coast by the Commodore of Foynes Yacht Club James McCormack whose boat will be used and they have scheduled stop overs in Galway, Dublin, Cross-haven, Cork and Kerry. The pair will set off on May 1st from Limerick, the weekend of the Riverfest and it is planned that others will join the duo at different stages of the voyage and it is hoped that events will be orga-nised at the various stops to help boost the fund raising effort.
Sailing around Ireland is not something new to Chris Egan, he previously did it in 2013 to raise funds for Cancer. He completed the round voyage following his treatment having been diagnosed with lymphoma non Hodgins in 2010    .
A series of fundraising events in advance of the sail will be launched in Foynes Yacht Club on Saturday night at 9pm to which everybody is wel-come and the music will be supplied by Different Sounds. Among the events to be launched are a Kiddies Fun Day on March 11th from 12 noon to 6pm in the D&M Garden Centre, Croagh. On March 31st a Desmond Darts Exhibition will take place in Foynes Yacht Club with inter-national darts star Peter Manley.
Throughout the month of March Dooley's Pharmacy, Newcastle West are doing a draw for a cosmetic hamper again with all the proceeds going to the Irish Guide Dogs.
More events are planned for April, the details of which will be revealed in the coming weeks. While at a function to mark the 40th anniversary of the Irish Guide Dogs last year, Chris and his wife Mary met the President of Ireland, Michael D. Higgins and Ireland soccer hero Roy Keane.