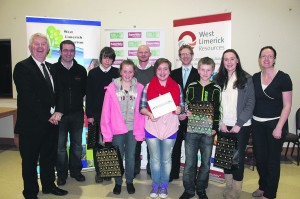 Budding young photographers from across west Limerick were recognised for their talent at the SuperValu/West Limerick Tourism Schools Photography Competition awards ceremony which took place in the Desmond Complex, Newcastle West on Wednesday last, November 16th. Six students from various secondary schools in the west Limerick area received prizes in the competition which aimed to encourage local young people to look around and identify all that is positive and attractive about west Limerick.
The winners of the five competition categories, who each received an iPod Nano, were:
•History and Heritage: Kate Brouder – Scoil Mhuire and Ide, Newcastle West
•Landscape – Natural and Built: Jude Aeddrian Atienza, Salesian College, Pallaskenry
•Music and Culture: Christopher Chamberlain – Colaiste Na Trocaire, Rathkeale
•Sport and Outdoor Activities: Sorcha Meehan – Salesian College, Pallaskenry
•Tidy Towns and Villages – Jack O'Connor – Desmond College, Newcastle West
Mariah Culloty from Hazelwood College Dromcollogher won the overall prize of an iPad for her series of photographs on the West Limerick area. Hazelwood College also received the schools' prize of €500. All prizes were sponsored by SuperValu. Entry to the competition was free of charge and was coordinated through the participating schools. 
The competition, which ran over the summer months, was organized by West Limerick Tourism and SuperValu with the support of local development company West Limerick Resources. West Limerick Tourism believes that a competition such as this was the perfect way to get young people to examine their communities and localities from the perspective of tourism and to take images which they felt could be used for promotion purposes.
"We believe that the west Limerick area is as beautiful and interesting as other parts of the country; however, this has not been captured and promoted effectively to date," said David Fitzgerald, Chairperson of west Limerick Tourism. "For that reason, we came up with the idea of a Schools Photography Competition, the idea being for talented young people to use their imagination and knowledge to photograph locations/activities/sites in their area that they believe are interesting and appealing but have been hidden. We now have a wonderful bank of images which can now be used to promote a positive tourism message for West Limerick and serve as an inspiration for those that work so hard in the sector. We would like to thank all those who took part for their efforts. While not everyone can get a prize, the array and standard of photographs received was very high and we hope to be able to use these images going forward. We would also like to thank the schools and teachers who supported the competition."
West Limerick Tourism went on to acknowledge the input of competition sponsors SuperValu. "SuperValu have been fantastic partners in this initiative and their commitment to the community was very evident in their enthusiasm and support throughout. We would very much like to thank the local Super Valu stores in Askeaton, Newcastle West and Abbeyfeale for their involvement and in particular Pat Dooley of Dooley's SuperValu Newcastle for working with us on the competition. We look forward to a productive working relationship going forward. We would also like to acknowledge the support that west Limerick Resources has given to West Limerick Tourism since its creation and for its support with this initiative."
West Limerick Tourism also say that they hope the competition has helped raise the profile of tourism in West Limerick. "West Limerick Tourism is now in existence just over a year and real progress in being made towards coordinating the development of tourism in the West Limerick area. There are currently 38 members coming from a wide range of sectors including visitor attractions and facilities, activity providers, approved accommodation providers, restaurants and pubs, visitor services, golf clubs, voluntary groups and business associations. By working together we hope to put west Limerick on the tourism map and to raise our profile with both foreign and Irish visitors."